Flathead Cherry and Balsamic Caramels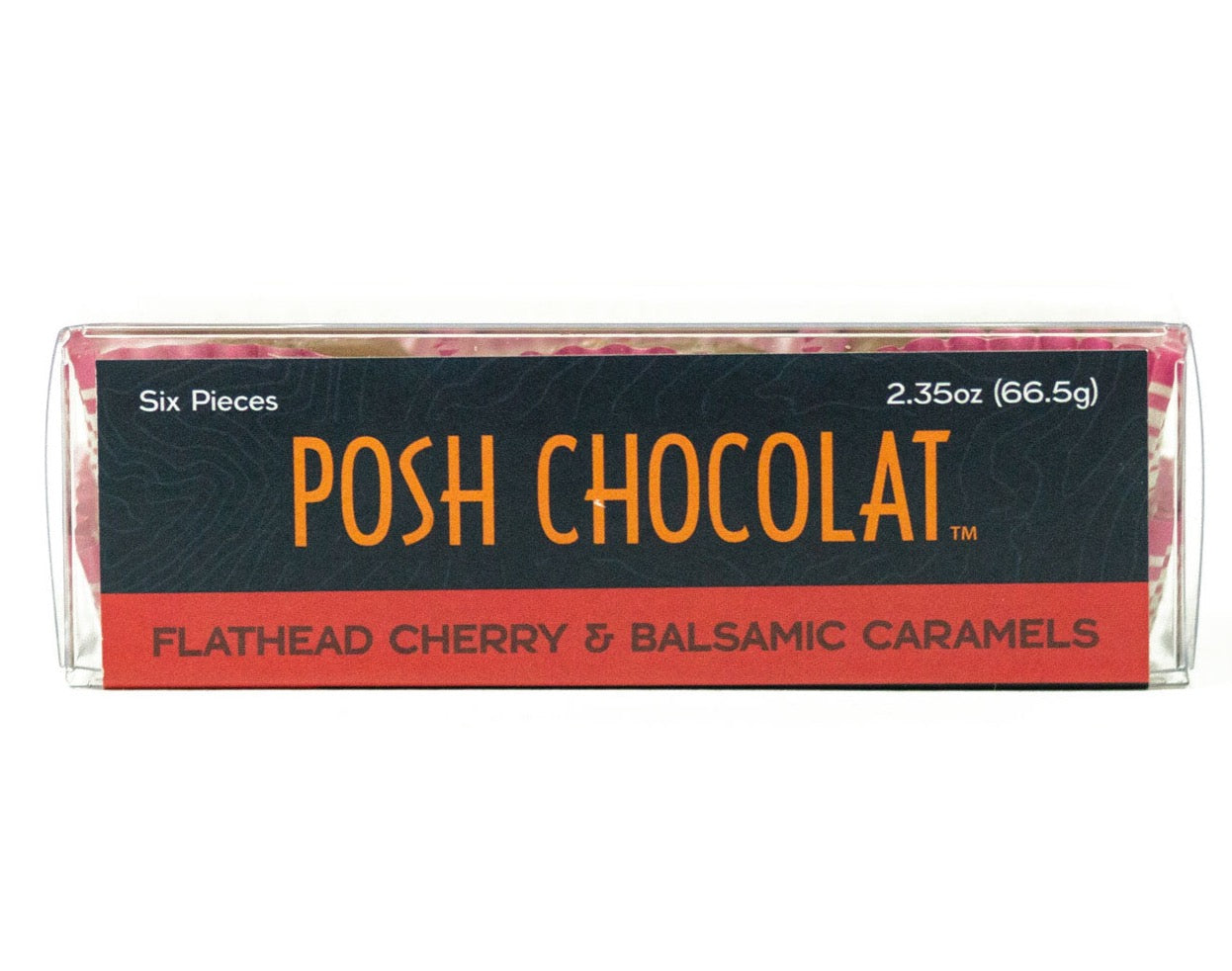 MEET OUR FLATHEAD CHERRY AND BALSAMIC CARAMELS
Robust cherry stone fruit contrasted by tart reduced balsamic vinegar all melded together with our rich caramel recipe to create a complex and incomparable flavor that leaves you wanting more. Pair the cherry and balsamic caramels with a big merlot or a spicy shiraz for the perfect, end-of-day indulgence.
Each caramel is hand-cut and enrobed in our special 38% chocolate blend then topped with Pink Bolivian Salt. We take great pride in our small-batch artisan caramels that are both an elegant and delicious confection with the perfect bite texture sans stickiness.
REVEL IN THE MOMENT
Best enjoyed in good company fireside with a late-night glass of wine, aprés ski or under the open sky.
WHAT'S INSIDE
Each box contains six cherry and reduced balsamic vinegar caramels dipped in 38% milk chocolate and topped with Bolivian pink salt.
OMG!
These are unbelievably good. Decadent. Delicious. A real treat.
I dream of these caramels
Perfect balance of salty, sweet, and a touch of sour from the balsamic. The chew is divine. Takes you right to summer with a hug
Beyond delicious!
I bought these on a recent visit to Missoula, then purchased them online to give as Christmas presents. I fear they will not make it until then. Unbelievably delicious!!!!
BEST EVER!!
Found these at a shop in Glacier National park. My husband bought them. He wasn't going to share with me until I found them. Oh my goodness! I love Chocolate Cherry candy. I've tried every item under the sun. These delicious treats win hands down! The best tasting chocolate I've ever had! Ordering more for Christmas! We are so happy we found these!
Excellent!
I first purchased these on a whim as I was checking out of the grocery store in West Glacier, but now ordered a huge box to give to friends and family. So good! (and I'm pretty picky :)