Dark Chocolate Almond Toffee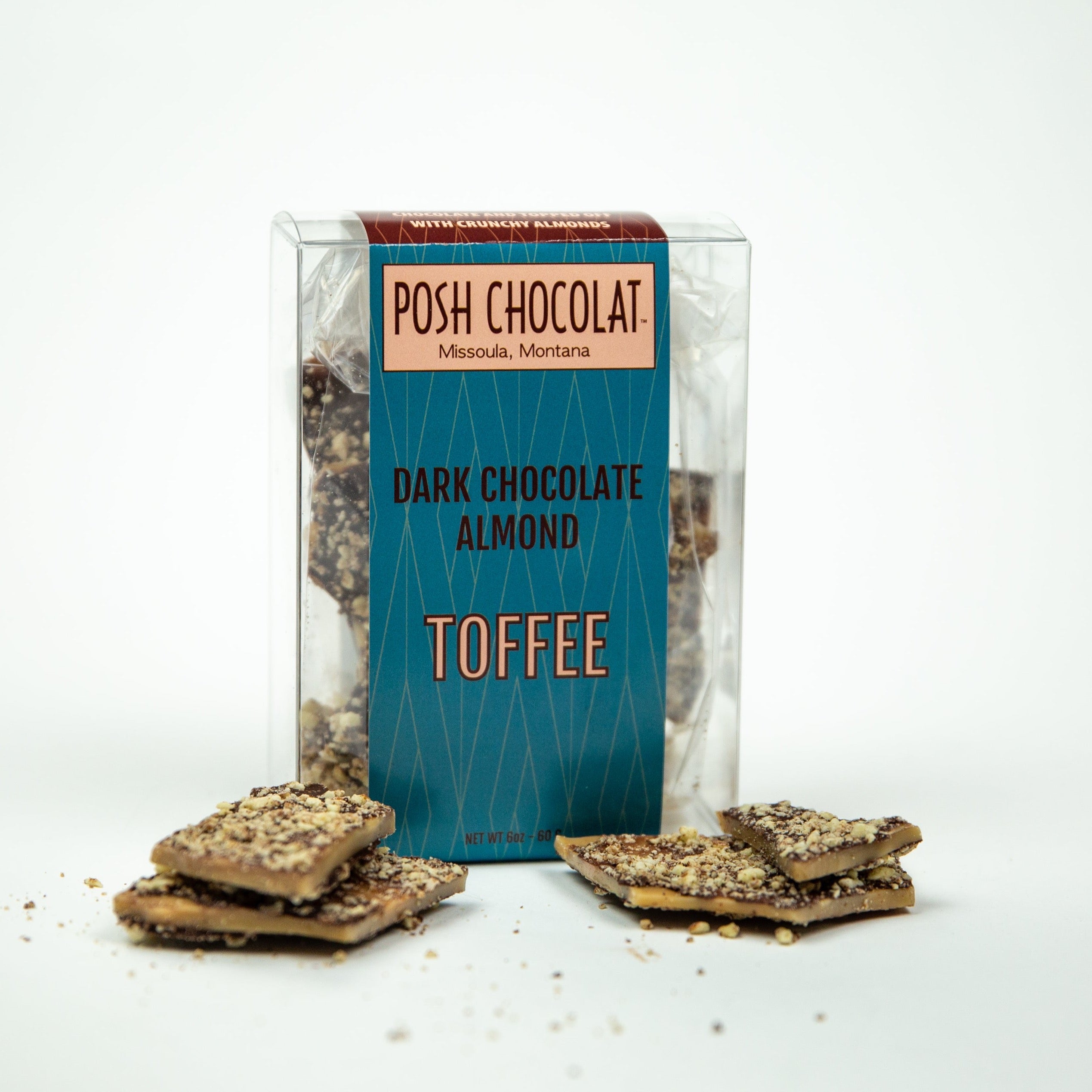 MEET OUR DARK CHOCOLATE ALMOND TOFFEE
Our dark chocolate almond toffee is control aged to develop the perfect texture between soft grain and crunch that is most desirable in artisan toffee. Just like a fine red wine that is best enjoyed at cellar temperature, we believe that our Posh Chocolat Dark Chocolate Almond Toffee is enjoyed slightly cool, and never warm! Please refrigerate after opening.
REVEL IN THE MOMENT
Best enjoyed in good company with an evening tea, aprés ski or in a cozy cabin amongst the trees.
WHAT'S INSIDE
Ingredients: Cane sugar, butter, almonds, sunflower lecithin, cocoa beans, cocoa butter, vanilla beans, salt.
ALLERGENS
Contains MILK and TREE NUTS
Dark chocolate, almond toffee
I ordered three of the dark chocolate & almond toffee packages and nine dark chocolate with toffee and almond candy bars. I had already had one of the candy bars when I visited Montana in April. I was really looking forward to trying the toffee. I was not overly impressed with it. I could not taste a whole lot of the chocolate. It also tasted a little on the salty side. I actually make one myself that my best friend had given me the recipe for years ago and after having this one I prefer mine. I still have two packages left. The good thing is since I'm not craving it, I won't over eat it.
Good, not great
We thought the almond bark was
salty and the chocolate to toffee ratio was lacking. Probably wouldn't order again. However the painted egg was amazing and really good.
An absolute favorite at our house!
Crunchy toffee almond chocolate heaven. Perfect as a gift. My husband's favorite.