Montana Fly Box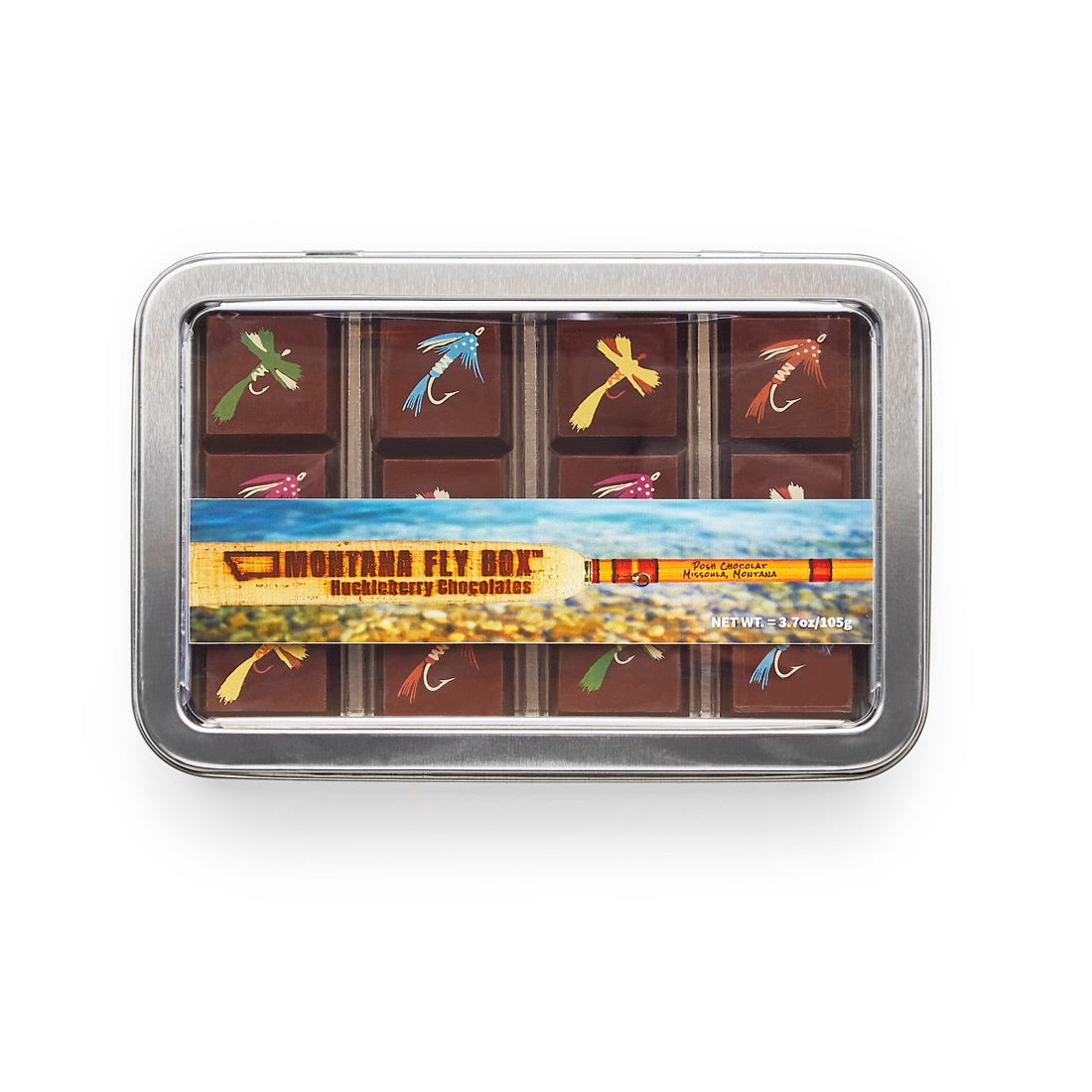 MEET OUR MONTANA FLY BOX
Inspired by casting lines in The Last Best Place, The Montana Fly Box is dedicated to outdoor-loving anglers. This reusable fly tin is filled with 12 huckleberry chocolate bonbons, each with a different fly pattern design. We infuse real organic huckleberry into our special dark chocolate blend to make the perfect and indulgent gift for every angler and huckleberry picker! Montana huckleberries grow wild in mountainous regions, especially in areas surrounding Glacier National Park ripening through the summer.
Enjoy the chocolates and reuse the fly box on your next fly fishing adventure.
REVEL IN THE MOMENT
Best enjoyed in good company fireside, while casting lines or in a cabin amongst the trees.
WHAT'S INSIDE
12 huckleberry chocolate bonbons - dark and milk chocolate (cocoa mass, cocoa butter, vanilla bean, dry milk powder, cane sugar, sunflower lecithin) organic coconut oil, organic huckleberry flavor, citric acid
Great gift!
My husband, the fly fisherman LOVED the chocolates and is quickly eating ALL the delicious candy in order to empty the box so he can fill it with fishing flies! Great timely Valentine Day gift for him!
Yum!
I received my first box of these as a gift from somebody that lives in your state and enjoys them immensely. They are so delicious. The honey, the lavender on the top, so classy. I will buy as a gift for that next special occasion myself.
Amazing Chocolate and Wonderful Service
Gave delicious fly boxes this year as holiday gifts. And regularly send beautiful chocolate eggs for Easter. All are exquisite—creamy chocolate and unique appearance. On top of it all, mail delivery and service were outstanding!
I gave the Montana Fly Box as a Christmas gift to the fly-fisher woman in our family and she was just amazed at the different flies on each piece of chocolate and added bonus - huckleberry!! She was thrilled and so was I, delicious!