Chai and Smoked Almonds Milk Chocolate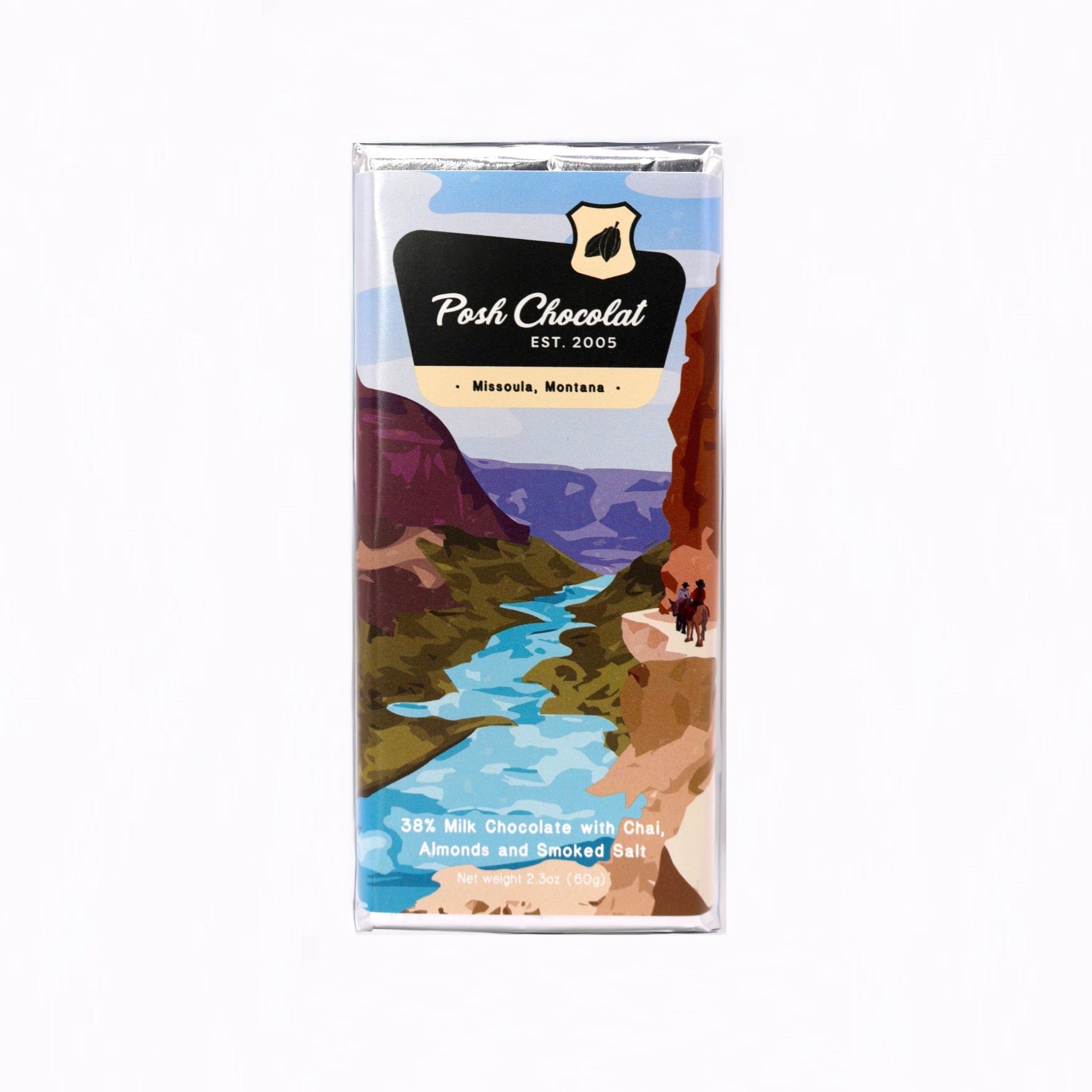 In this decadent bar, posh chocolate combines 38% milk chocolate and smoked almonds with masala, cinnamon, cardamom and many other spices from Chai Tea producing a very aromatic and delightful chocolate bar.
Ingredients:
Cocoa butter, cocoa mass, vanilla beans, sunflower lecithin, cane sugar, dry milk, chai spices, almonds, smoked salt.
ALLERGENS: Dairy, Peanuts, Tree Nuts, Soy
My Favorite!
The Chai Chocolate bar has been my favorite for years! Every time I visit Montana, it would be the one chocolate I would search for. I can't find another one like it.
Delicious!
We were given a bar in a gift bag. After sharing it, the three adults in our family looked at each other and agreed we needed a box for Christmas.
What the others don't know is that I'm buying a box all for myself, too
Chai Chocolate? Yuck!
We found Posh Chocolat at the Florence Hotel in Missoula a couple weeks ago. We bought several chocolates and really enjoyed them.
So my wife bought a sampler variety pack of bars from Posh for presents after we got home. We opened one random bar looking forward to another great chocolate experience, but we happened to pick out this Chai & Smoked Almond bar. We both went Ugh! Yuck! What IS this?? What's that flavor? At first we thought it was red pepper flakes, but we read the label and saw "Chai."
Some flavors and combinations work well, but not this one.
Hello
Thank you for your recent purchase. We noticed your review on the Chai Bar and are truly sorry that you are not happy with it. We have a feeling that the bar may have been mislabeled and you ended up with our Chili Zest bar by mistake. Once we read the part about red pepper flakes, we figured that must have been the issue. Please allow us to send you a replacement bar at our expense in hopes that this will clear up any dissatisfaction with our products. While we work hard to make everything perfect, mistakes certainly can happen especially since our products are not only 100% handmade, but also 100% hand packed. So there is the element of human error. At any rate if you would like a replacement, please email a good shipping address and we will happily replace the bar. Again sincere apologies!
Very best and happy holidays!
Posh Team